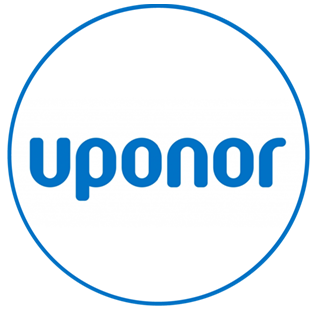 Dmitry Garnik from the Air Water Therm YouTube channel interviewed Leonid Nikolaev about the experience of testing the Uponor Phyn Plus system in the Intelcity smart home.
Uponor is a leading global provider of solutions and systems for the transport of hygienic drinking water, energy efficient heating and cooling systems and reliable infrastructure solutions. The company operates in numerous sectors of construction, from residential and commercial construction to industrial and infrastructure.
More details
Devices controlling water leaks are not new, but today we will introduce you to a novelty on the Ukrainian market – the Uponor Phyn Plus device, which allows you to monitor water supply systems at home as a whole and for each device separately.
Dmitry Garnik: – We are in the Intelcity intellectual house, where Phyn Plus is the first in Ukraine. Our interlocutor Leonid has experience in testing and operating this device. How long have you been testing the device?
Leonid Nikolaev: – About four months. This period is sufficient to understand how effective it is.
Dmitry Garnik: – How difficult was it to integrate Phyn Plus into a ready-made water supply system?
Leonid Nikolaev: – Considering that the water supply system was made quite competently from the beginning, there were no difficulties with installation or connection. It took literally minutes.
Dmitry Garnik: – What is the principle of operation of this device?
Leonid Nikolaev: – I would say that the principle of operation of Phyn Plus is unique for this kind of systems today: the device sends ultrasonic signals of a certain frequency to determine the state of the system and we can see both consumption data and learn about emergency situations: water leakage, uncontrolled water discharge, freezing of pipes, etc. Dmitry Garnik: – The device independently recognizes plumbing fixtures. How correctly does it do this?
Leonid Nikolaev: – About 90% of the devices were recognized correctly. Moreover, it is possible to refine the wrong recognition, which is very easy and accessible.
Dmitry Garnik: – How long did you set up the device?
Leonid Nikolaev: – It takes about 10 days for Phyn Plus to get used to the system, but almost no human participation is required. Phyn Plus does everything for you and for you.
Dmitry Garnik: – How can a device that does not have external sensors diagnose leaks and freezing of pipes?
Leonid Nikolaev: – In the process of adapting to the water supply system, the device determines the typical behavior of the tenant and as soon as an unusual event occurs, you receive a message about it. In our experience, almost all situations during operation were recognized correctly.
Dmitry Garnik: – How can you get a notification about an emergency situation?
Leonid Nikolaev: – There is a standard application for the iOS and Android systems. Phyn Plus simply shuts off the water during a water leak, there is also the possibility of a remote reaction – we can open or shut off the water with one touch of a finger.
Dmitry Garnik: – How did you integrate Phyn Plus into your home control system?
Leonid Nikolaev: – Through the special service IFTTT, we are able to carry out certain reactions of some devices to messages from other devices. For example, we can, thanks to system integration, turn on the heating of the freezing zone in automatic mode, and we can also respond to this by turning on the pumping station, we can change the temperature of the light to red, in the room in which we are in the event of an uncontrolled leak. Integration possibilities are practically unlimited today.
Dmitry Garnik: – You are pioneers, you get the first smart devices on the market, test them, and after that make a decision whether they are released to the market or not. Right?
Leonid Nikolaev: – Yes, that's right. Here we are very grateful to our partners, Uponor, for the opportunity to be the first in this area as well. I want to note that this is really a big responsibility, because we must conduct real tests, in real conditions in a real house, and give feedback on the possibility of further operation in our and other projects. Phyn Plus is a must-have for any smart home.