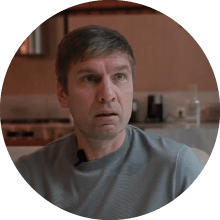 Sergey lives with his wife and two sons in an intellectual townhouse in Kiev. Despite the manufacturability of the environment, he does not at all feel the obvious presence of this system in his life, but on the contrary - it exists in it very naturally, as if he had always lived this way.
"This is an amazing experience because you forget that you are living in an intellectual space. There is no feeling that this is some kind of superstructure. You live very naturally. "
More details
"I am very comfortable living in a smart home. This is an amazing experience because I forget that I am living in an intellectual space. I know, such expectations when I buy a new gadget. I thought that when I come home, I would need to click the buttons to get this purely visual pleasure. But in fact, I get a completely different impression, livin in ease. I get used to this new cozy environment as if I have lived it all my life. I really do not feel the intellectual or the technical side of it. No fears. I feel very safe and very cool.
The main scenario is lighting, it's the thing that I can change as I choose.
We don't have many of them, only two or three: we use the "Home Dinner" scenario when guests visit. We set a special lighting level, very comfortable. When guests arrive, we have lights all over the dining table, then we dim the light in the area where we receive guests. The feeling of homemade dinner is a little different, playing with the light is a little different. The rest of the scripts were configured initially. For example, turning on the lights around the house around sunset. The lights in the yard give us the impression of comfort.
It is more convenient to control the system from the panel. I get used to a certain mode, the buttons on the wall. In the early stage, I almost rocked them, but now I sometimes regulate the temperature a little. I turn on the light only in the bedroom. Everywhere else it turns on on its own, without me even touching it. It's an amazing feeling. I practically don't use the controls on my phone. Only sometimes I look at the settings and check the temperature. Actually, I do not use the home control panel from my phone.
I will tell you that I have not seen many intellectual houses, despite the fact that I have a fairly wide circle of acquaintances. I am the first who made such a decision for myself.
I think I got used to it in about a month. There is no feeling that this is some kind of a superstructure. It came into my life so organically. For example, at my work, the bathroom light needs to be turned on by hand. For me this is terribly unusual and I asked to change it to light sensors. I am now used to everything working organically for me. Thinking about it when I am in another room is not comfortable. So I solved it drastically fast. It's good that I am the director. "